What is VAT and how much is it in UK?

VAT (known in some countries as a GST) is a sales tax and is charged on most goods and services provided by VAT-registered businesses in the UK and the Isle of Man. The current standard rate of VAT is 20%. The reduced rate of VAT is 5%.

| Reduced-rate items | Zero-rated items | VAT exempt items |
| --- | --- | --- |
| Children's car seats | Children's clothing and shoes, public transport | Betting and gaming |
| Women's sanitary products | Books and newspapers | Subscriptions to membership organisations |
| Residential conversions | Food - except meals in restaurants | Fundraising events by charities |
| Installation of energy-saving materials | Most goods you export to a country outside the UK | Some education and training |
| Domestic fuel and power | Motorcycle helmets | Providing credit and Insurance |
Value Added Tax is collected on behalf of
HMRC
by businesses that are VAT registered. After registration, each company receives its own VAT number. These same business can also claim VAT back on relevant purchases.
In the United Kingdom value-added tax was introduced in 1973 as a replacement for Purchase Tax and Selective Employment Tax, as a condition of UK entry into the European Economic Community. You can find out more about VAT on
Wikipedia
.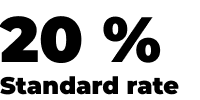 The standard rate of VAT in the UK was increased from 17.5% to 20% on 4 January 2011.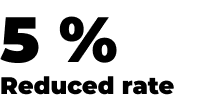 The reduced rate of 5% is applied to some goods and services such as children's car seats and home energy.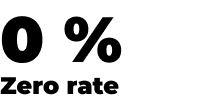 Zero VAT rate is applied to a range of products and services to do with health, publishing and kids' clothing.

UK VAT rates history

| Date | VAT changes |
| --- | --- |
| 1st April 1973 | 10% Value Added Tax has been introduced in the UK |
| 29th July 1974 | VAT rate reduced to 8% but 25% fuel tax introduced |
| 18th June 1979 | Value Added Tax rate increased to 15% |
| 1st April 1991 | The VAT rate has been increased to 17.5% |
| 1st December 2008 | Standard sales tax rate reduced by 15% |
| 1st January 2010 | The standard rate was increased to 17.5% and a reduced rate of 7% was introduced |
| 4th January 2011 | The standard VAT rate is increased to current 20% and the reduced rate is set at 5% |
Working Out VAT

Following these simple steps can help you to calculate VAT backwards or forwards.

Adding VAT Formula

If you want to add VAT to the price, to divide the amount by 100 and then multiply by (100 + VAT percentage). That's all, you got the amount including VAT (Gross). To make sure you get it right, better use our calculator.


VAT Addition Example

For example, if your business sells sports equipment for £500
First, you need to divide the amount by 100 per cent
Then multiply this value by 120 per cent
After the calculation, we get £600, which is the price including VAT
Removing VAT Formula

If you want to remove VAT from the price, to divide the amount by (100 + VAT percentage) and then multiply by 100. Now you know the amount exclusive of VAT (Net). If this is difficult for you, use our calculator.


VAT Subtraction Example

For example, if you bought a laptop for a Gross price £500
First, you need to divide the price by 120 per cent
Then multiply the value obtained by 100 per cent
We get £416.67, which is the price excluding VAT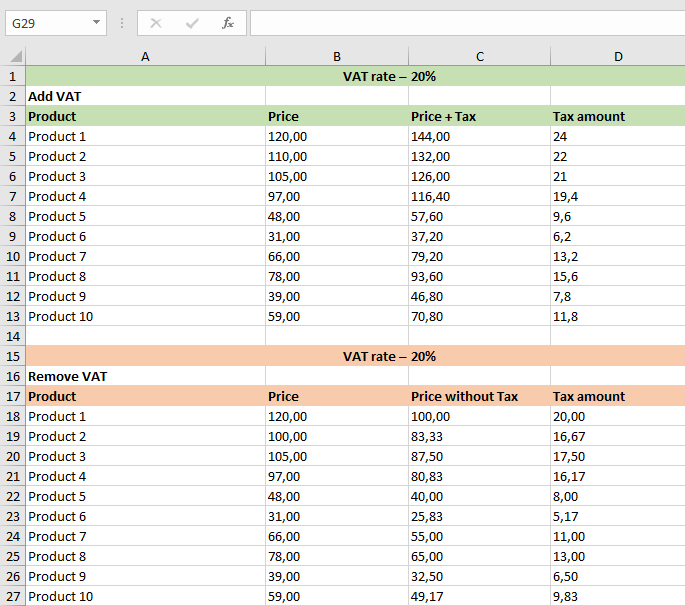 Calculate VAT in Excel

If you need to calculate VAT for several goods at once, it is easier to use Excel than a calculator. I created a template for reverse VAT calculation – download, it's free.

Download template
Frequently Asked VAT Questions & Answers

Below you will find information in Q&A format about value added tax.

6 Interesting VAT Facts

Here you will find the 6 most interesting facts about VAT that you probably didn't know.

VAT was first introduced in France in 1954. The UK VAT rate was originally set at 10% and gradually increased over time, rising to 20% in 2011, and has remained so ever since.

In the 2019/2020 tax year, the UK generated £129.88 billion in VAT revenue. VAT is the third largest source of government revenue after income tax and National Insurance.

Hungary has the highest VAT rate in the world at 27%, followed by Iceland with 25.5%. Countries that don't charge VAT at all include the Bahamas, Hong Kong, Saudi Arabia and Qatar.


Brands that have fought and won VAT victories include Jaffa Cakes and Tunnocks Snowballs, which have successfully proven that their products are cakes (VAT-free) and not cookies, which in turn are subject to VAT.

The highlight for the media was the emergence of Pastygate in 2012. The government's proposal to start charging VAT on takeout items such as hot sausage rolls and pastries met with widespread disapproval.

Goods with a zero rate of VAT in the UK include: children's clothing, most foodstuffs, books and prescription drugs. Other items not subject to VAT include visits to museums, antiques and postal services.